Buzzing | Shares of Ratnamani Metals and Tubes rallied over 6 percent to hit a 52-week high of Rs 2,141 apiece after the company received a domestic order of Rs 594 crore for coated carbon steel pipes from oil and gas sector, to be executed between September 2021 to July 2022.
Oil prices drop as coronavirus caseloads rise
Oil slipped on Monday in thin trading as rising COVID-19 case numbers in some parts of the world kept a lid on prices, even as the Federal Reserve signalled the U.S. economy may soon rebound as vaccinations accelerate. Brent was up 28 cents, or 0.4 percent, at $62.67 a barrel, having risen to as high as $63.30 earlier. US crude was down 23 cents, or 04 percent, to $59.09 a barrel, after rising as much as 46 cents earlier.
JMC bags new orders worth Rs 1,262 crore
Kalpataru Power Transmission arm JMC Projects has won new orders worth Rs 1,262 crore. "Kalpataru Power Transmission Projects arm JMC Projects, a civil engineering and EPC company has secured new orders of Rs 1,262 crore (received orders of Rs 431 crore in March 2021 and Rs 831 crore in month of April 2021 till date)," a BSE filing said. The orders include building projects in India of Rs 1,059 crores and water project in Maldives of about Rs 203 crore. Read more.
Biocon's arm gets GMP compliance certificate from UK's health regulator MHRA for Bengaluru facility
Biotechnology firm Biocon said its subsidiary Biocon Pharma has received Good Manufacturing Practice (GMP) compliance certificate from UK's health regulator MHRA for its Bengaluru facility. The certificate, which includes manufacturing and packaging of tablets and capsules in the non-potent and potent blocks of the facility, was issued based on a remote inspection in the week of March 22, 2021, in the wake of travel restrictions amidst COVID-19.
India VIX jumps 15% as markets turn jittery over coronavirus lockdown worries
India VIX (Volatility Index) surged over 15 percent to 23 on Monday, indicating nervousness among investors, following a nearly 3 percent fall in benchmark indices amid broad-based sell-off. This is the second-highest level of India VIX in 2021 after it rose over 21 percent on February 26, 2021. VIX is meant to indicate investors' perception of the annual market volatility over the next 30 calendar days. The higher the value, the higher is the expected volatility and vice versa. The indices witnessed heavy sell-off following concerns surrounding lockdowns as the COVID-19 cases rose in India to record high levels and various states imposed further restrictions to tackle the spread of the second wave of the coronavirus pandemic. Read more.
Market Watch: Aditya Agarwala of Yes Securities   
"I have a sell on Bandhan Bank, it is one of the weakest banks at the moment. The stock is already down 7.50-8 percent but still I see more room on the downside. IT has broken down from a trendline support on very good volumes so there is more weakness on the downside. One can go ahead and short at current levels for targets of Rs 320 and keep a stop loss at Rs 340-341 on the upside."
"The second recommendation is a buy on Divi's Laboratories, pharma and FMCG space are the only two sectors which are holding down. Divi's has broken out from a downwards slopping channel and at current levels one can go and accumulate the stock, but for a targets of Rs 4,050 keeping a stop loss at Rs 3,750 on the downside."
Banks, NBFCs fall as rising COVID-19 cases dampen sentiment; SBI, HDFC Bank among worst hit
Shares of banks and NBCFs plunged in the early trade on Monday as the sharp rise in the country's coronavirus cases dampened investor sentiment and raised concerns over economic recovery. The Nifty Bank index declined over 4 percent, while the benchmark Nifty was trading more than 2.5 percent lower. Private lenders such as HDFC Bank, IndusInd Bank, Axis Bank, ICIC Bank, RBL Bank, among others plunged between 4-8 percent, while PSU banks including SBI, IOB, Bank of Baroda, PNB and Canara Bank declined between 6-8 percent. More here
Buzzing | Shares of Solara Active Pharma Sciences jumped over 11 percent in an otherwise weak market after the company's board of directors approved the amalgamation with Aurore Life Science, Empyrean Lifesciences and Hydra Active Pharma Sciences.
Market Watch: Ashish Kyal of Waves Strategy
Pharma had been the flavour not only today but if you look at the last few days pharma has been outperforming and even today when everything is falling the top 3-4 gainers are the pharma stocks. The first stock pick is Torrent Pharmaceuticals, one can initiate long positions here over short-term, keeping a stop loss of Rs 2,520 for the target of Rs 2,800 where the resistance is lying.
The next stock is on the short side is from auto space, Hero MotoCorp, the stock had been in a downtrend for quite some time for almost a month, there is absolutely no buying emerging, it has now broken below the previous pivot low so sell Hero MotoCorp with a stop loss of Rs 2,920 and target of Rs 2,600.
Manish Hathiramani, Proprietary Index Trader and Technical Analyst, Deen Dayal Investments
The resistance of 14,950-15,000 has worked once again, this time fiercely! The markets have taken a severe U-turn and have tested the 14,300-14,400 support. For the markets to move up, we need to respect this support range and bounce up. 14,264 was the recent low recorded and if we break that, the next expected level is 13,900.
Gold rate today: Yellow metal trades above Rs 46,600 per 10 grams
Gold prices in India traded higher on the Multi Commodity Exchange (MCX) Monday on safe-haven demand as rising coronavirus cases in the country dampened investor risk-appetite, analysts said. At 10:35 am, gold futures for June delivery rose 0.10 percent to Rs 46,640 per 10 grams as against the previous close of Rs 46,593 and opening price of Rs 46,545 on the MCX. Silver futures traded 0.08 percent lower at Rs 66,932 per kg. The prices opened at Rs 66,786 as compared to the previous close of Rs 66,983 per kg. "Gold and silver prices are expected to see positive momentum on the back of safe-haven demand. Rising coronavirus cases triggered fears of lockdown, lifting the safe-haven appeal for the yellow metal," said Ajay Kedia, director, Kedia Advisory. More here
Corporate profit before taxes in Q4 may rise 117% YoY: CLSA
The Indian companies across major sectors may see a sharp growth of 117 percent YoY in their profit before taxes (PBT) during the fourth quarter of fiscal 2021 due to last year's weak base. While, banks, capital goods, cement, and metals may have the highest YoY PBT growth, property, power, staples and IT are likely to have the lowest, according to brokerage firm CLSA. With a big reduction in telecom losses, this should allow domestic-focused companies, ex-financials, to have 50 percent YoY PBT growth. Downstream oil companies and media should show profits compared to losses, as per CLSA estimates. More here
Financials taking COVID-19 impact on its chin; positive on ICICI, Axis, says Prakash Diwan
The financial sector is taking the COVID-19 impact on its chin, said market expert Prakash Diwan on Monday. "Sentimentally and fundamentally things look a bit difficult for financials," he told CNBC-TV18. "This could continue till the numbers start plateauing, till you start seeing a little bit of flattening of the curve and the vaccination drive starts taking attention away from the cases that are rising," he further added. Diwan, however, believes that there is underlying demand. "So corporate facing banks will probably be better off as compared to retail loan oriented banks. That is one of the reasons by non-banking financial companies (NBFCs) might not be the best of picks at this point in time but the likes of ICICI Bank and Axis Bank could probably steal the march." More here
Infosys shares gain 3% as co announces plan to consider buyback on April 14
The share price of IT major Infosys rose around 3 percent on Monday, in an otherwise weak market, after the firm announced that it will consider share buyback on April 14, the day it announces March quarter results. The stock rose as much as 2.7 percent to its day's high of Rs 1,480 per share. Brokerage house CLSA estimates that the potential buyback could range between $1.2 billion-$1.5 billion based on Infosys' stated capital allocation policy. This translates to 1.1-1.5 percent of its equity assuming a buyback premium to the current market price in line with previous buybacks, said the brokerage. "We are not certain on the mode (tender offer or open market purchase) though. Infosys has explored both in the previous two cases," it said. While the first buyback in 2017 was as a tender offer and promoters participated in it, the second, in 2019, was through the open market route and promoters did not participate. More here
IT Sector Q4 Preview: Revenue growth to remain strong; cost pressures to weigh on margins
The corporate earnings for the fourth quarter of fiscal 2021 are all set to begin with the IT companies kicking in the season. In the last two consecutive quarters, companies have beaten street expectations and earnings estimates have been raised. Analysts expect companies to report strong results again this quarter. During the quarter ended March 2021, the Nifty IT index has outperformed the benchmark Nifty and experts believe this outperformance to continue in the medium term. Strong demand environment, large deal wins, continued traction in digital and cloud, ramp-up of large deals and demand recovery in highly impacted verticals like travel, hospitality were the highlights of the quarter gone by for the Indian IT companies. More here
Morning market quote from Dr. V K Vijayakumar, Chief Investment Strategist at Geojit Financial Services

"Since the second wave of the pandemic is turning out worse than expected, there is profound uncertainty about its impact on the economy & markets. Since the situation is the worst in economically significant Maharashtra, this can impact the market's assumption of around 11% GDP growth & above 30% earnings growth. The situation may improve if cases peak soon and start coming down. But presently, this is a negative. The bad health situation and INR depreciation have improved prospects for the pharma & IT sectors, which are likely to remain resilient even during a market downturn. Economy- facing stocks are likely to be under pressure"
Sectoral Watch: Most key indices witness selling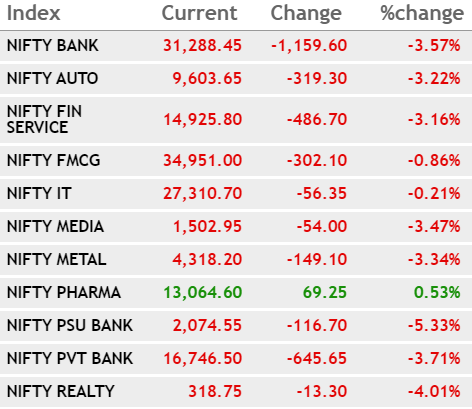 Opening Bell: Sensex opens over 800 points lower, Nifty below 14,600 on lockdown concerns; banks, metals drag
Indian indices started the week on a lower note mainly dragged by  banking, financials and metal stocks as concerns over rising COVID-19 cases in the country and fears of lockdown in certain states weighed on sentiment. At 9:18 am, the Sensex was down 818 points at 48,773 while the Nifty fell 247 points to 14,590. Broader markets were also lower with the midcap and smallcap indices down over 2.5 percent each. On the Nifty50 index, Infosys, Cipla and Dr Reddy's were the top gaienrs while Bajaj Finance, IndusInd Bank, SBI, Adani Ports and Tata Motors led the losses.
Fed's Powell sees US boom ahead, with COVID still a risk
The US economy is poised for an extended period of strong growth and hiring, the chair of the Federal Reserve said in an interview broadcast Sunday, though the coronavirus still poses some risk. Chair Jerome Powell, speaking to CBS' 60 Minutes," also said that he doesn't expect to raise the Fed's benchmark interest rate, currently pegged at nearly zero, this year. He also downplayed the risk of higher inflation stemming from sharp increases in government spending and expanding budget deficits. We feel like we're at a place where the economy is about to start growing much more quickly and job creation coming in much more quickly, Powell said. This growth that we are expecting in the second half of this year is going to be very strong. And job creation, I would expect to be very strong.
Oil prices climb on favourable outlook for US fuel demand
Oil rose on Monday amid hopes that fuel demand is picking up in the United States as the summer driving season approaches and the rollout of COVID-19 vaccinations there accelerates, though increasing case numbers in other countries are set to cap gains. Brent was up 25 cents, or 0.4 percent, at USD 63.20 a barrel by 0155 GMT. US crude gained 17 cents, or 0.3 percent, to USD 59.49 a barrel. Prices have changed little since a period of volatile trading ended with the close of trading last Monday." An unsettling calm has enveloped oil markets recently as Brent remains anchored around USD 63 and traders adopt a wait and see range-trade mentality," said Stephen Innes, chief market strategist at Axi. More here
Asia shares slip into earnings season, U.S. data deluge
Asian shares faltered on Monday as investors wait to see if U.S. earnings can justify sky-high valuations, while bond markets could be tested by what should be very strong readings for U.S. inflation and retail sales this week. MSCI's broadest index of Asia-Pacific shares outside Japan was off 0.6% in slow trade. Tokyo's Nikkei edged down 0.5%, while South Korean stocks were near flat. Chinese blue chips eased 0.9% ahead of a rush of economic figures from the country.