Hong Kong will suspend transit flights for a month from around 150 countries and territories considered high risk because of the coronavirus, deepening the global financial hub's isolation.
The move comes as the city has seen around 50 cases of the fast-spreading Omicron variant since the end of last year.
Prior to the outbreak, which authorities said could be traced back to two aircrew members of Cathay Pacific Airways, the city had had no local transmissions for over three months.
Hong Kong International Airport said in a statement today that any persons who have stayed in places classified as high risk by health authorities in the 21 days before travelling cannot transit through the city from 16 January until 15 February.
The measure was taken "in order to control the spread of the highly infectious Omicron variant," it said.
Hong Kong currently classifies more than 150 countries and territories as high risk.
---
---
Last week, it banned incoming flights from Australia, Canada, France, India, Pakistan, the Philippines, Britain and the United States, including interchanges.
The Chinese-ruled city has followed mainland China's policy in adopting a zero-tolerance towards local Covid-19 cases even as much of the world shifts towards living with the coronavirus.
In recent weeks, authorities have tightened quarantine restrictions on air crew and reintroduced curbs on social life.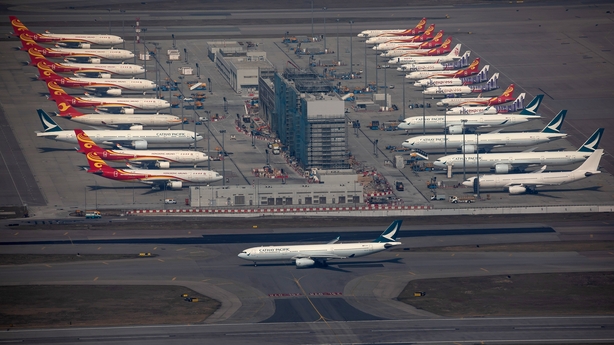 Fifteen types of venues, including bars and clubs, cinemas, gyms and beauty salons were ordered to close, while dining in restaurants is banned after 6pm.
Primary schools and pre-schools have also been closed.
The government is expected to announce later today that the restrictions will be extended through the Lunar New Year holiday at the start of next month.
Swedish PM tests positive for Covid as fourth wave surges
Swedish Prime Minister Magdalena Andersson has tested positive for Covid-19, her spokesperson said, as a growing wave of infections swept the country driven by the more contagious Omicron variant.
Ms Andersson is one of several party leaders to have tested positive for the virus in the wake of a debate in parliament earlier this week while Sweden's king, queen and crown princess have all been hit with infections this month.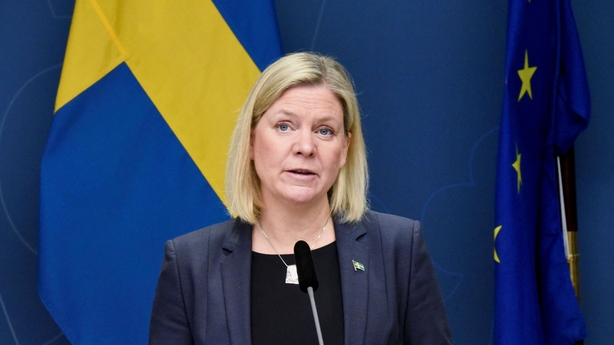 The Nordic country has repeatedly set new daily records for Covid cases this month amid a mounting fourth wave of the virus, raising pressure on the healthcare system and triggering the reimposition of many restrictions.
"She is following the current recommendations and will perform her duties from home. The PM is feeling well, given the situation," the spokesperson said.
The health agency expects cases, currently hitting highs of around 25,000 per day, to peak later this month when Sweden could reach almost 70,000 daily cases, according to its modelling.
Shanghai cuts some tourism trips after brief resumption
Shanghai has suspended some tourism activities as part of its efforts to head off a handful of sporadic new local transmissions, while it also faces an increase in Covid-19 infections from overseas.
Shanghai's tourism and culture authority said travel agencies and online tourism companies must once again halt organising group tours between Shanghai and other provinces, regions or municipalities, after the city reported five new domestically transmitted infections yesterday, all linked to a previous arrival from overseas.
The order, in line with a national guideline to cut tourist activities in provincial divisions where new infections have emerged, came less than a month after Shanghai lifted a previous suspension that had come into effect in November, according to local government statements and a report by a newspaper managed by China's tourism authority.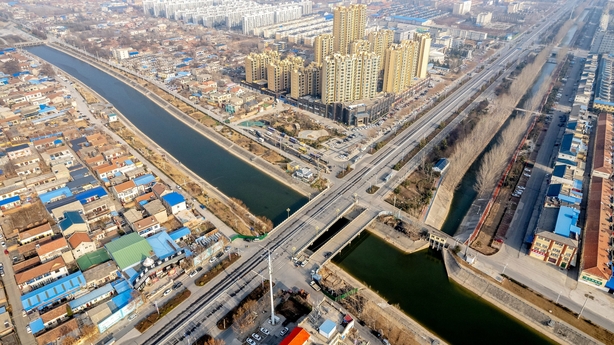 The risk of the virus entering from overseas has increased in Shanghai, with new imported cases during the first 10 days of this month already exceeding December's total, according to Reuters calculations.
It is unclear how many were caused by the Omicron variant.
There were further signs that Shanghai, one of China's most populous cities, was raising its Covid-19-related vigilance ahead of the Lunar New Year holiday travel peak later this month.
Those arriving in Shanghai from other low virus-risk parts of China should reduce gatherings in the first week of arrival, and residents are advised not to leave town unnecessarily during the Lunar New Year holiday, a local disease control expert during the same news conference.
China reported a total of 143 local confirmed cases, and four domestically transmitted asymptomatic carriers for 13 January.
There were no new deaths, leaving the death toll at 4,636.
As of 13 January, mainland China had 104,580 confirmed symptomatic cases, including both local ones and those arriving from overseas.
Welsh government set to ease Covid rules
The Welsh government is to set out a two-week plan to ease coronavirus restrictions.
First Minister Mark Drakeford will reveal his road map for returning to alert level 0, during a press conference in Cardiff this afternoon.
Wales has been on alert level 2 since Boxing Day, which includes measures such as mask-wearing in all public venues, the two-metre rule and the rule of six in hospitality settings.
Nightclubs have also been forced to shut.
However, current data shows falling case numbers and a decline in the number of patients in critical care beds.
The move to alert level 0 is expected to be phased, with restrictions on outdoor activities being removed first.
Huge crowds gather for Hindu festival in India
Drones sprayed holy water from the Ganges on thousands of Hindu pilgrims to reduce crowding during a massive festival being held despite soaring Covid cases in India.
The Gangasagar Mela in the east of the country has drawn comparisons with another "superspreader" Hindu gathering last year that the Hindu nationalist government refused to ban. It was blamed in part for a devastating Covid surge.
Officials had said they expected around three million people to attend the festival's climax on Sagar Island, where the Ganges meets the Bay of Bengal.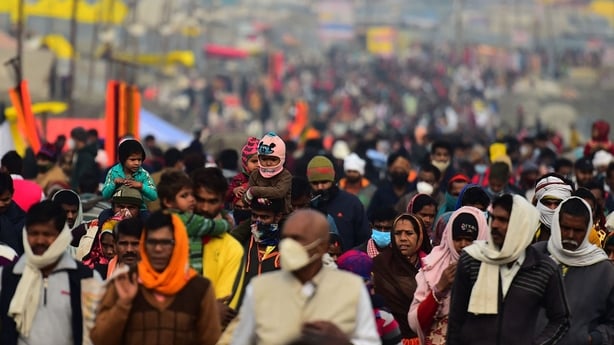 An AFP photographer said that there were fewer people than in recent years and that rain put off some pilgrims from making the journey.
But there were still huge crowds, mostly without masks, taking a holy dip in the river.
Fatalities from India's current wave of infections remain a fraction of what they were during the surge in April and May last year, with 315 deaths recorded yesterday compared with as many as 4,000 per day at the peak.
Infections are rising fast, however, with almost 265,000 new cases reported yesterday. Some models predict India could experience as many as 800,000 cases per day in a few weeks, twice the rate seen nine months ago.
Keen to avoid another painful lockdown for millions of workers reliant on a few dollars in daily wages, authorities in different parts of India have sought to restrict gatherings.
In New Delhi, all bars, restaurants and private offices are shut and the capital is set to go into its second weekend curfew tonigh.
In the financial capital Mumbai, gatherings of more than four people are banned.
But in West Bengal state, the Calcutta High Court allowed the Gangasagar Mela to proceed.
As with 2021's Kumbh Mela, it has attracted people from across northern India who, after cramming onto trains, buses and boats to reach the island, will then go home.
Amitava Nandy, a virologist from the School of Tropical Medicines in Kolkata, said the government "has neither the facilities nor the manpower" to test everyone attending or impose social distancing.
Schools in Philippines capital stop classes as Omicron cases surge
Schools in the Philippine capital Manila were ordered today to suspend online classes for a week, as an Omicron-driven record surge in infections ravages the metropolis of 13 million.
Covid-19 is ripping through the national capital region and surrounding provinces, causing widespread disruption to businesses, services and healthcare providers.
The order for schools in the capital to suspend online lessons until 22 January was to "ease the health burden" for teachers and students, the regional Department of Education said in a memorandum.
Thousands of teachers and students have been infected with Covid-19, according to the Alliance of Concerned Teachers, which has welcomed the "health break".
In an apparent effort to limit the havoc caused by Omicron and get people back to work faster, the government has also shortened the isolation period for people with mild symptoms of the disease from ten to seven days.
The move to pause lessons comes days after the national department of education gave schools across the archipelago the option to suspend classes for two weeks this month as Omicron whips across the nation.
Only around half of the Philippine population is fully vaccinated.
While nearly every country in the world has partially or fully reopened schools for face-to-face lessons, the Philippines has kept them largely closed since March 2020.
A pilot return of some schools to in-person lessons in November was suspended in December as infections rose.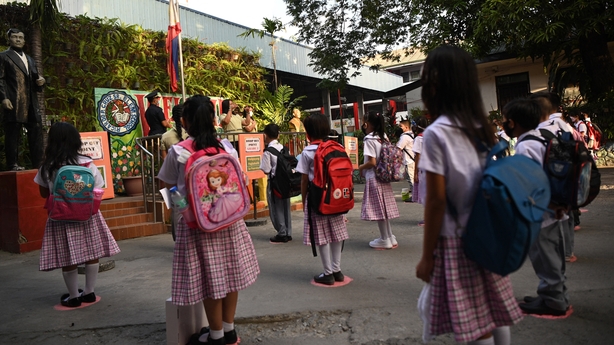 The number of new cases hit a record 37,207 today, with more than three million people in the country infected since the start of the pandemic.
But a lack of testing and the exclusion of antigen results from the tally means the actual figure is likely to be much higher.
To revive the battered economy, the government loosened lockdowns in October last year, after coronavirus infections driven by the Delta variant peaked.
New infection numbers dwindled to a few hundred per day just before Christmas, but ramped up again as people gathered over the holidays.
Additional reporting PA